Guinea Conakary News
now browsing by tag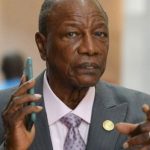 Guinea's president has delayed Sunday's controversial referendum on changing the constitution that if passed could allow him to seek a third term.
Alpha Condé, 81, said the "slight postponement" was because the opposition say officials have tampered with the electoral register.
The announcement comes amid mounting international concern about the fairness of the poll.
There have been months of often violent demonstrations against the vote.
At least 30 people have been killed in the protests since October.
The African Union and the regional bloc, Ecowas, said they were not sending election observers to the mineral-rich West African nation.
An estimated 7.7 million registered votes were also due to elect members of parliament on Sunday.
Earlier this week, the International Organisation of La Francophonie (OIF), a grouping of French-speaking nations, said there were problems identifying around 2.5 million names listed on the electoral roll.
Will the vote go ahead at all?
According to the president, yes. And a letter sent by Mr Condé to Ecowas about the postponement, seen by the AFP news agency, says it should take place within two weeks.
"This is not a capitulation or a step backwards. The people of Guinea will express their choice freely at the referendum," President Condé told state TV on Friday evening.
An opposition alliance opposed to the new constitution, the FNDC, has called for a boycott, which would make it likely that a "yes" vote would win.
Does the proposed constitution scrap term limits?
No – a president would still only be able to serve two terms, though the length of a term would be extended from five to six years.
However, the adoption of the new constitution would mean that the time Mr Condé has already served would not count – and his second term comes to an end in December.
Has Mr Condé said he wants to run again?
No, but his party has not denied that the new constitution would allow him to do so. But it says the constitution is about revamping a document written during a time of military rule between 2008 and 2010.
"His willingness to change the constitution has nothing to do with his plan to look for a third term," Amadou Damaro Camara, parliamentary leader of the governing Rally of the Guinean People, told the BBC.
"The plan is to provide a better constitution for the Republic of Guinea because the one we have is not good enough."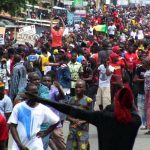 Hundreds of thousands of protesters in Guinea are expected to take to the streets again over President Alpha Conde's proposal to hold a referendum to change the constitution.
They are angry because Conde wants to change the constitution to allow him to govern beyond his final, second term.
Demonstrations in Guinea against President Alpha Conde's bid to extend his stay in office have become a daily routine. The 81-year-old President is bent on extending his stay in office, by changing the national constitution. The current constitution provides for a two-term limit for the President. President Conde is serving his second and final term which ends this year.
Several Guineans protesting against President Conde's plan to change the constitution to suit his third term ambition, have either been shot dead or have been arrested and detained. This is not good for Guinea. Guineans deserve better!
President Conde should put the interest of Guineans ahead of his personal ambition by dropping the idea of changing the constitution to make way for him to continue in office after his second and final term comes to an end. What else does President Conde really want? What point does he intend to prove? He has really done well for Guinea but he should give way to another person to take up from where he would leave off.
President Conde should not destroy his legacy, by trying to undermine the peace and security of not only Guinea but also neighbouring countries like Liberia and Sierra Leone. Liberia and Sierra Leone have suffered greatly and they deserve to be left in peace. Whatever happens in Guinea is bound to affect Liberia and Sierra Leone because they are the two neighbouring countries that share boundaries with Guinea.
Opposition parties have threatened to boycott the vote.
More than 30 people have died since demonstrations began in October.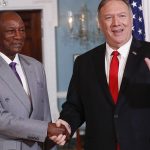 The United States has officially reacted to plans by Guinean president Alpha Conde to revise the consitution in a move aimed at running for a third term in office.
Condé announced in a statement this week that the country will hold a two-way vote on March 1 – for legislative elections and a controversial constitutional referendum.
The US Secretary of State, Mike Pompeo, posted on Twitter that America was "concerned over Guinea's current plan to hold legislative elections and a constitutional referendum on March 1.
"We urge all parties to peacefully resolve issues with voters rolls and uphold their commitment to conduct an inclusive consultation on the new constitution," he added.
A statement issued by the Department of State said the US questions whether the process will be free fair and transparent and accurately reflect the will of eligible voters. It tasked government to play by United Nations standards for voter rolls.
Intense opposition pressure against the move did little to hold Conde, whom the opposition accuse of bidding his way to run for a third term.
Since mid-October, the West African nation has been the scene of protests against the long-standing plan of the president, who was elected in 2010 and re-elected in 2015, to contest the 2020 presidential race. The US also cautioned against repression of opposing voices.
Conde met with Pompeo in Washington for talks in December 2019. The president in an exclusive interview with Africanews stressed that Guinea was a sovereign nation that could use legal means to change its laws.
He also called out the opposition for being mischievous over an open process through which the voters roll was compiled. The opposition says they will boycott the legislative polls with their leadership vowing that the polls will not hold in the first place.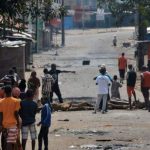 Nine deaths confirmed in Guinea 'third term' protests
Guinea's government has confirmed that nine people have been killed during this week's demonstrations against a possible change to the constitution.
Witnesses say police opened fire on the protesters as they blocked roads with burning tyres and ransacked military posts in the capital Conarky, according to news agency Reuters.
Opposition parties say at least 10 people have been killed, including a 14-year-old boy. They also say police raided victim's families' homes, Reuters says. The government has not responded to the allegations.
The demonstrators are protesting against the possibility of President Alpha Conde running for a third term. Mr Conde, 81, took office in 2010 and his final five-year term should end in 2020. He has, however, not ruled out a third term and has asked his government to look into drafting a new constitution which critics say aims at letting him run for a third term.