Rice farmers impulse gov't to rescue Jahally-Pacharr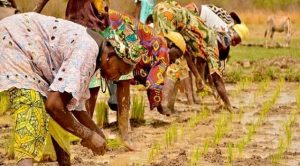 Rice growers at the Jahally-Pacharr rice fields, the famous cultivating centre for rice in The Gambia have make known their sadness over the new government's absence of interest in addressing the difficulty of Gambian farmers.
'Jahally-Pacharr is an agricultural rice cultivation project designed for communities in the Central River Region south famous for its tons of output in rice production during the days of the PPP government. Its production sharply dropped under former President Yahya Jammeh who took ownership of the rice fields and brought it to its knees.
But the farmers who said they thought the new government would take the farm seriously felt disappointed becoming unrealistic.'
Ansumana Fatty, aone of the farmers who walked into The Standard offices on Tuesday urges the government to, as a matter of urgency, 'help them with running water and tractors.'
"We are calling on the government to help us as Gambia cannot continue to live in dreams forever. Enough is enough," he added.
Fatty said farmers at the Jahal pacharr rice field will execute an enormous campaign against Barrow in the 2021 presidential election if his government fails to address their urgent needs.
"As I speak to you, we don't even have water to cultivate our rice. We also badly need tractors because we spend D1000 to plough each hectare which is very expensive," he added.
He said since ex_president Jammeh left office their problems have even triple.
"We are confident that Jahally-Pacharr alone can feed the entire country if the needed capacity is there, but unfortunately this government has done nothing towards addressing the constraints of farmers. We don't even have water to cultivate our crops talk less of farming materials."
He said had the government concentrated on one of the country's largest rice field, "Gambia will soon stop importing rice".
"We have also written to the Office of the President last February for the Gambian leader to swiftly come to our aid but to avail," he said.
Source___Standard Newspaper