The Profile Of The Judges Of Special Movie Awards (SMA-2016)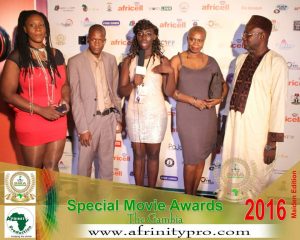 The Special Movie Awards (SMA-2016) has been successfully come to pass as we awaits the coming edition here are the faces being the wonderful results and their profiles.
Charmaine – works at west coast radio. Also the official trainer for the Miss July 22 beauty pageant for over 6years. Also was a judge in the most interesting reality tv show for two seasons, the face of Africell." Member of the organizing committee and trainer of the Miss Sierra Leone in The Gambia. She has trained models and young girls that have won beauty pageants and modeling competitions here in The Gambia and abroad. She has sat as a judge for many beauty pageants and talent competition. She is well known for her constructive critical eye and fairness. Charmaine just finished early this year a movie "The mysterious wedding planner" a princess shingles production where she played a supporting role along side John Dumelo , etc.. Has also featured in a very soap opera "living in love" that was produced by the family planning of The Gambia.
A BACKGROUND ON TELVISION PRODUCTION
1984. In house training on Still Camera/ Video camera operation and sound recording at the Film Production Unit.
1986. Training on Television programming and production organized by Worldview International.
1990. Training on General Television Production Techniques at the International Institute for Journalism Berlin. (Camera Operation, Lighting and Sound.)
1994. Training on General Television Programme Production Techniques in Dakar organized by Duche Welle.
The Film Unit under the Ministry of Information we produce Educational Films on Agriculture and Health, and covering of State Functions.
Whilst at the Film Production Unit I had the chance to work with some International Film Crews that visited the Gambia.
With the advent of Television in The Gambia Staff of the then Film Production Unit are moved to be the pioneers.
1996. Training on Camera Operation, Directing and Drama Production Techniques at the National Film and Television Institute (NAFTI) Ghana.
1997/1998. In house training on Television Camera Operation and Directing organized by German TV. (DW)
1998 -2000. Directing 8pm National News in English on Gambia Television on Sundays.
2007. Training on General Television Programme Production Techniques. i.e. Camera Operation, Sound Recording, Editing, Directing and Script Writing at the National Film and Television School Beaconsfield Studio United Kingdom.
I have been twice invited by National Centre for Arts and Culture (NCAC) as Commission Member to select two Films for The Gambia's participation in CLAP IVOIRE.
Essa Jallow's media career stretched as far back as 1992 when he was appointed as a radio announcer at the then radio Gambia. He was one of the main English news anchors and a reporter. Essa was transfered to the newly established TV in 1996 which is now refered to as GRTS. At GRTS, Essa continued as a news anchor and pioneered the sports department. He is one of the first editors to have moved from linear to non linear video editing following a training course on AVID at Pinewood Studios in London. He was behind the majority of music videos produced at GRTS in its early days.
Apart from the numerous certificates, Essa obtained a Foundation Degree in broadcast TV production from the University of Salford in England and a BA (Hons) in Interactive Media from Liverpool John Moores University.
In his career Essa has participated in high profile productions in the Gambia and abroad. One such high profile assignment was the London 2012 Olympics where he was a camera assistant and a utility.
Essa specialises in documentary films and multi camera production. He is also an accomplished Editor, voice over artist with experience in script writing.
ACHIEVEMENTS, CERTIFICATES , AWARDS AND RECOGNITIONS
With over 30 years in sales and marketing, in the entertainment and work industry, I have decided to put together some of my achievements, awards and certificates acquired during these years. Presently, I am the CEO /Founder of the Afri Care Group (TAG) in The Gambia, with intentions, working with perfection, in the entertainment, hospitality and Real estate industry.
Being a former print and advertising model , I have also worked with models , from aboard and mostly in the USA , with over 2000 talents in our data system, and 45 contracted talents , 2major print models for Redkin Purology and Johnsons hair products .
Below please find summary of achievements and certs .
EDUCATION
• CERTIFIED DEGREE – ARTS
• CERTIFIED – FIRSTV CLASS IN BUSINESS ANALYST (MARKETING AND SALES ) SPAIN / USA
• CERTIFIED – FIRST CLASS IN WORD PROCESSING AND TYPING
• CERTIFIED –FIRST CLASS BLUE COLLARED CERTIFIED FOR FORD-USA
• CERTIFIED IATAAGENT –USA
• CERTIFIED COSMETOLOGIST-USA
PROFESSIONAL EXPERIENCE
THE AFRICARE GROUP LTD
CEO/ DIRECTOR 2013- PRESEN
• SPECIALIZING IN ADVERTISING AND MARKETING
• PUBLIC AND PRESS RELATIONS
• CLIENT MANAGEMENT SERVICES
• HOSPITALITY
ENTERTAINMENT
• EVENT MANAGEMENT AND PLANNING ( PRODUCT LAUNCH , AWARDS CEREMONIES, CLIENT ENTERTAINMENT
• CONFERENCES , SEMINARS , COPORATE BRANDING AND WORKSHOPS
• PUBLIC AND MEDIA RELATIONS
• ENTERTAINMENT /PRODUCTION &FILM (FILM PREMIERING , ADVERT DIRECTING & PROMOTIONS , LIVE ACT PRESENTATIONS ,SPECIFIC CONSULTATIONS )
ACTREM (AFRICARE AND TEELAY REAL ESTATE PROPERTY MANAGEMENT)
• PROPERTY RENTAL AND PROPERTY SALES (SINGLE FAMILY, APARTMENTS AND OR LAND.
• PROPERTY MANAGEMENT
CHICAGO TOP MODELS INC.
CEO/ DIRECTOR 2007-2013
• OVERSEE STAFF AND MANAGEMENT OF OFFICE COMMUNICATION.
• TRAINING OF HEAD STAFF ON ALL DEPARTMENT.
• MANAGE HUMAN RESOURCES AGENCY.
• MANAGE COMPANY DATABASE (2000+TALENTS )
• TRAINING AND RECRUITING STAFF AND TALENTS /MODELS.
• MANAGED FINANCIAL AND PHYSICAL RESOURCES.
• OVERSEE AND RECRUIT NEW ACCOUNTS WITH CASTING DIECTORS, ADVERTISING AND FILM COMPANIES.
• DEVELOPING , DIRECTING AND INTERNAL PAYOFFS FOR COMPANY ADS
AMERICAN HOME FRONT MORTGAGE
LOAN SOLICITOR, PARTNER AND PROCESSOR 2007-2008
• ASSIST THE LOAN OFFICERS REGARDING MORTGAGE AND FOLLOW-UPS WITH CLIENTS.
• COLLECTALL DOCUMENTS AND DATA FOR CLOSING LOAN.
• PROCESS RESIDENTIAL MORTGAGE LOAN APPLICATIONS AND CLOSING LOAN.
• PROCESS EXTERNAL AND INTERNAL PAYOFFS FOR OLD MORTGAGES AND LINES OF CREDIT.
PREMIER MORTGAGE FUNDING
LOAN PROCESSOR 2005-2007
• HANDLED TASK REVIEWING RESIDENTIAL FILES
• VERIFIER , COMPLIER AND UPDATING MORTGAGES CLAUSE ON HOMEOWNERSFILES
• VERIFIER , COMPLIER AND UPDATING MORTGAGES CLAUSE ON HOMEOWNERS INSURANCE POLICIES
SOCK-TECH INTERNATIONAL
MANAGER 2003-2005
• DESIGNED OPERATIONS AND STANDARDS OF THE ORGANIZATION AND ASSESS STAFF OPERATIONS
• SUPERVISED THE STAFF AND MANAGE OFFICE COMMUNICATION
• STAFF RECRUITMENT, TRAINING AND PLACEMENT.
SUTTON FORD 2002-2003
SENIOR SALES REPRESENTATIVES-(BLUE COLLARED CERTIFIED)
• RESPONSIBLE FOR GATHERING INFORMATION , INSPECTING , COMPARING AND CONTRASTING COMPETITIVE MODELS AND DEMONSTRATED OPERATIONS
• BUILT RAPPORT WITH QUALIFYING BUYERS UNDERSTANDING INTEREST AND REQUIRMENTS TO VARIOUS MODELS.
• DEVELOPED AND MAINTAINED RELATIONSHIPS WITH NEW AS WELL AS EXISTING CUSTOMERS.
• NEGOTIATED PRICE AND COMPLETED AND CLOSE SALES OR PURCHASE CONTRACTS AT A95% PERCENTILE.
• BLUE COLLARED CERTIFIED IN 3MONTHS (ONLY FEMALE WITH 24 MALES)
BUSINESS OWNER 2001-2006
• AFRICAN HERITAGE HAIR BRAIDING AND SPA-ILLINOIS
BUSINESS OWNER 1999-2001
MULTICULTURAL HAIR BRAIDING – BATIMORE MARYLAND AND EASTON, MARYLAND
TENERIFE, SPAIN-1993-2000
BUSINESS OWNER (3 LOCATIONS)
• LORO PARQUE- BAZAAR AFRICANA (INAUGURATEDBY FORMER PRESIDENT OF STATE , ALHAJI SIR DAWDA JAWARA )
• BAZAR TIPICO CANARIAS – HOTEL PLAYA CANARIAS ( ALL WINES , CIGARS , SALSA ,EVERYTHING TYPICAL OF THE SEVEN ISLANDS)
• BOUTIQUES HOTEL PLAYA CANARIAS- (ELEGANT BOUTIQUES FOR THE FOUR STAR HOTEL).
• MODELS AND ORGANIZE FASHION SHOWS FOR BOUTIQUES
GAMBIA 1994-1998
• BANKO INDUSTRIES –COMPANY DIRECTOR AND SHAREHOLDER
• LUIS DIAZ DE LUSADA- COMPANY DIRECTOR AND SECRETARY
BERLIN 1990-1993
• MODELING FOR BOUTIQUES
• MAKE UP MODEL FOR ELIZABETH ARDEN AT KDV
GAMBIA 1984-1991
• FASHION MODEL FOR THE TOURIST BOUTIQUES AND DESIGNERS IN THE GAMBIA
• BUSINESS –EXPORTATION OF PINEAPPLES (FROM CONAKRY , SUPPLIED ALL HOTELS IN THE KOMBO AREA)
• BUSINESS PARTNER – SENEGAMBIA BOUTIQUE
• HOSTESS- NOVOTEL ALA CARTE RESTAURANT
AWADS AND CERTIFICATIONS
1986- CERTIFIED – CHARCOAL PENCIL DRAWING
1986 – CERTIFIED – (DEGREE)
1989 – CERTIFICATE OF PARTICIPATION (PORTUGUESE TOWN GROUP, NATIONAL FASHION SHOW AND CONTEST) – SIGNATURES- MAJOR JAMES F.P. GOMEZ, COUNCILLOR EMMANUEL WILLIAMS, ALHAJI O.B.CONATEH, MRG.
1991- AWARD AND CERTIFICATE –DESIGNER OF THE YEAR – SIGNATURES – HON. ALHAJI JAMES GAYE. MINISTER OF TOURISM AND HON. MEMBER JATTA, MINISTER OF TRADE AND EMPLOYMENT
1993-CERTIFIED FIRST CLASS PITMAN EXAMINATION INSTITUTE – MICROSOFT WORD PROCESSING AND TYPE WRITING
1996- CERTIFIED BUSINESS ANALYST – AYUNTAMIENTO DE TRABAJO –TENERIFE SPAIN
2001-CERTIFIED – FORD DEALER (BLUE COLLARED) USA
2003- RECOGNITION –KANKAKEE NEWS PAPER – FASHIONISTA OF THE YEAR-USA
2004- RECOGNITION –NEWS PAPER – CULTURAL BACKGROUND AND TRENDS –USA
2006- CERTIFIED COSMETOLOGIST -KANKAKEE COMMUNITY COLLEGE –USA
2006-2007- BUSINESS AGENT CERTIFICATION FOR AGENCY (TRAINING ON SALES AND MARKETING COURSE) CHICAGO BUSINESS CENTER
2008- CERTIFIED – GLOBAL TRAVEL INTERNATIONAL IATA AGENT
2008- AWARDED – BEST SUPPORTING AND COLLABORATION FOR TODAYS YOUTH –NAVY PIER CHICAGO – IDES ILLINOIS -USA
.