Special Movie Awards 2016 Press Conference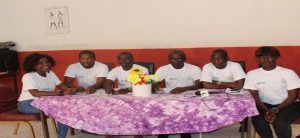 On Wednesday 20th July 2016, a press conference was held at the Joint Officers Mess for the Special Movie Awards (SMA) 2016.
The purpose was to sensitize the general public about this brilliant initiative, solicit for partnership and to let Film Makers know the closing date for the submission of application forms. The Conference was attended by the Committee Members of SMA and of about nine (9) Press Houses both Print and Electronic Media such as Standard Newspaper, Observer, The point, West coast Radio, Hot Fm and more.
Various questions with regards to the awards was asked in other to clear the air for the public and avoid skeptics. Some of the questions include:
• Where and when can one vote?
• When are submissions due?
• What is the submission process?
The press was more particular about the processes involved to be part of the Special Movie Awards Maiden Edition 2016. The Special Movie Awards Calendar has already been drafted below:
SPECIAL MOVIE AWARDS (SMA) 2016

ACTIVITIES
DATE
Movie Submissions Opens
1st July (9am-4pm)(Mon to Fri)
Movie Submissions Closes
30th July, Saturday
Jury Retreat for Movie Screening
1st August – 7th August
Launching of SMA (Press Conference)
8th August, Monday
Public Voting Opens
10th August, Wednesday
Public Voting Closes
10th September, Saturday
Collation of Nomination Results
29th September, Thursday
Special Movie Awards Night

30th September, Friday
Aside the Special Movie Awards Calendar, some of the things discussed involved the submission requirements which involves A copy of the Film Makers movie to be submitted, A trailer and Production Logo in a flash drive to be submitted at:
Afrinity Productions
Office Address:
10 East Street,
Fajara F Section,
P.O. Box 3069 S/K,
The Gambia .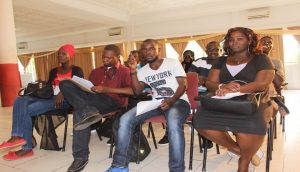 After all the matters and questions from the press was digressed by the committee members which included The Producer Sheikh Tijan Sonko, Program Coordinator Franklin Adim, Admin Secretary Isatu M. Bokum, Assistant Admin Secretary Binta Janneh , Financial Secretary Bankole Browne, and The Committee Adviser Amadou Sillah, the next press conference to be held on the 8th of August was disclosed. All the press Members are urged to join as that's when most Concealed matters regarding the awards will be revealed. A special thanks goes the Executive Producer of SMA and CEO of Afrinity Productions, Mr. Wilfred Adams for powering the Maiden Edition of Special Movie Awards 2016, Afrinity Productions Technical Crew Adams Orukpe and Ayisatu Aiyegbo for covering the event, The Press members and Special Movie Awards Committee and everyone that was present at the conference.