Gambia Film Industry Sparkling as Gods Will Premieres on Valentines Day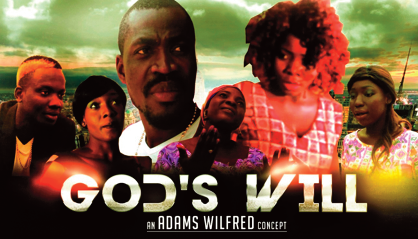 On a rapid drive to boost the nations film industry to produce standard films that will have universal audience and viewership, The Gambias film industry is sparkling as the movie Gods Will premieres on Valentines Day. The movie is produced by Wilfred Adams of Afrinity Productions.
In an interview with Observer Light, Adams said the principal idea behind the movie is one that discourage divorce, faith in God, and promote spouses to remain in long standing marriages by enduring patiently despite challenges that comes with marital life.
In describing her role in the movie, the lead role Fanta played by Isatu M Bokum, said as a strong young lady, she got married at an early age after courtship for about ten years and married for five years. The problem started when she could not bear a child for her husband Omar, played by Daniel Okorie, as he is desperate to have a child.
The movie takes a gloomy turn for Fanta as her best friend Isha played by Binta Janneh, whose husband is rich and provide all her needs, began to manipulate her to go into extra marital affairs because of the way Omar is treating her. With Fantas strong perseverance, she remains faithful to her husband, even after she was driven away from her matrimonial home for not bearing a child.
Source: Daily Observer