science & Technology
now browsing by tag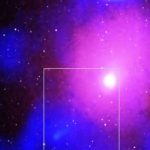 Scientists have detected evidence of a colossal explosion in space – five times bigger than anything observed before.
The huge release of energy is thought to have emanated from a supermassive black hole some 390 million light years from Earth.
The eruption is said to have left a giant dent in the Ophiuchus galaxy cluster.
Researchers reported their findings in The Astrophysical Journal.
They had long thought there was something strange about Ophiuchus galaxy cluster, which is a giant aggregation containing thousands of individual galaxies intermingled with hot gas and dark matter. X-ray telescopes had spied a curious curved edge to it.
The speculation was that this might be the wall of a cavity that had been sculpted in its gas by emissions from a central black hole.
Black holes are famous for gorging on infalling matter, but they will also expel prodigious amounts of material and energy in the form of jets.
Scientists at first doubted their explanation however, because the cavity was so big; you could fit 15 of our own Milky Way galaxies in a row into the hole.
And that meant any black hole explosion would have to have been unimaginably prodigious.
But new telescope data from the Murchison Widefield Array (MWA) in Australia and the Giant Metrewave Radio Telescope (GMRT) in India seem to confirm it.
"In some ways, this blast is similar to how the eruption of Mount St Helens (volcano) in 1980 ripped off the top of the mountain," said Simona Giacintucci of the Naval Research Laboratory in Washington, DC, and lead author of the study.
US researchers have warned that the availability of sex robots with artificial intelligence (AI) poses a growing psychological and moral threat to individuals and society.
They say the technology is escaping oversight because agencies are too embarrassed to investigate it.
The scientists want action to prevent the unregulated use of such robots.
Dr Christine Hendren of Duke University told BBC News that "the stakes were high".
"Some robots are programmed to protest, to create a rape scenario," she said.
"Some are designed to look like children. One developer of these in Japan is a self-confessed paedophile, who says that this device is a prophylactic against him ever hurting a real child.
"But does that normalise and give people a chance to practise these behaviours that should be treated by just stamping them out?"
Dr Hendren was speaking here at the annual meeting of the American Association for the Advancement of Science.
A number of sex robots are advertised online. A US-based firm, Realrobitix, has posted a video marketing its Harmony robot for between $8,000 and $10,000.
It is a life-sized doll which can blink and move its eyes and neck, and also its lips as it talks.
Speaking with a Scottish accent, the mannequin says, "if you play your cards right you will have some pleasure and fun coming your way".
And the firm's founder and CEO, Matt McMullen explains that Harmony has AI that enables "her" to develop a relationship with the owner.
"She is going to remember things about you, your likes, your dislikes and your experiences," says Mr McMullen.
Kathleen Richardson, who is a professor of the Ethics and Culture of Robots and AI at De Montfort University in Leicester, wants this kind of marketing outlawed.
"These companies are saying, 'you don't have a friendship? You don't have a life partner? Don't worry we can create a robot girlfriend for you'.
"A relationship with a girlfriend is based on intimacy, attachment and reciprocity. These are things that can't be replicated by machines," she said.
Prof Richardson advises a pressure group that has been set up to monitor the emergence of these products. The campaign against sex robots is working with policy experts to draw up legislation aimed at banning claims that companion robots can be a substitute for human relationships.
"Are we going to move into a future where we keep normalising the idea of women as sex objects?" she told BBC News.
"If someone has a problem with a relationship in their actual lives you deal with that with other people, not by normalising the idea that you can have a robot in your life and it can be as good as a person."
FROM BBC NEWS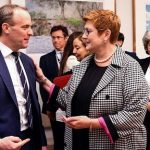 Senior Australian MPs have cancelled a planned trip to the UK as tensions heighten over the role of Huawei in building Britain's 5G network.
Lawmakers from the intelligence and security committee had been expected to travel to the UK next month.
But the trip has been postponed amid reports of a diplomatic rift.
The decision follows a reported complaint from the UK over leaked details of a high-level meeting where Huawei was discussed.
Australia has banned the Chinese telecommunications giant from building its next-generation 5G mobile internet networks but Britain last month decided the company could continue to play a role in its system, despite pressure and warnings from Washington.
Last week, UK Foreign Secretary Dominic Raab visited Australia, where he met members of the parliament's intelligence committee.
Details of the meeting were later leaked to the Sydeny Morning Herald, which said an MP had rebuked Mr Raab in the meeting over Britain's Huawei decision, saying Australia was very disappointed.
According to Australian media that report prompted a formal complaint from Vicki Treadell, the UK's High Commissioner to Australia, to the heads of two Australian parliamentary committees.
Australia and the UK are both part of the Five Eyes intelligence alliance, which also includes the US, New Zealand and Canada.
Australia's parliament on Saturday confirmed the trip to the UK had been delayed but said it was due to the fact that the counterpart parliamentary committee in the UK was yet to be appointed following December's election.
According to the Sydney Morning Herald, in the meeting with Mr Raab, Anthony Byrne, the deputy chair of Australia's intelligence committee, said that allowing China to build the UK's 5G telecoms infrastructure was equivalent to letting Russia construct it.
"How would you feel if the Russians laid down infrastructure in your own networks? That's how we feel about Huawei," Mr Byrne was quoted as telling Mr Raab.
In a Twitter post at the time, he said the meeting had involved a "full and frank discussion" over 5G and strategic challenges. Ms Treadell was present.
FROM BBC NEWS