Japan News
now browsing by tag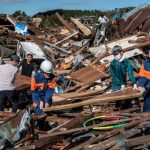 More than 110,000 people are taking part in search and rescue operations after Typhoon Hagibis struck Japan on Saturday.
The typhoon – the worst storm to hit the country in decades – has left at least 40 dead, with 16 missing.
Typhoon Hagibis also caused the cancellation of three Rugby World Cup matches but a key match between Japan and Scotland went ahead.
Japan won 28-21 to reach the quarter-finals for the first time.
The typhoon has weakened and moved away from land but has left a trail of destruction.
A train depot in Nagano was also flooded, causing 10 high-speed ("bullet") trains to be submerged. Each train has been valued at $30m (£23m).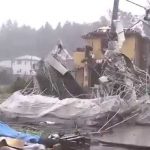 Japan is bracing itself for Typhoon Hagibis, the most powerful storm to hit the country in 60 years, to make landfall near Tokyo later on Saturday.
The country is already feeling the effects, with some areas already flooded, tens of thousands of homes without power, and one person dead.
Winds of 180km/h (111mph) could cause further flooding and landslides, the Japan Meteorological Agency has warned.
Some Rugby World Cup matches and Formula One races have been cancelled.
Authorities have issued evacuation advisories in areas at particular risk, while supermarkets are running low as people stock up before the typhoon hits.
Flights and trains have been shut down, while shops and factories have also been closed.
Even while the storm was still out to sea, tornado-like winds battered Chiba, east of Tokyo, damaging homes and toppling a car, killing its occupant.