BTS made a Fans match band's $1m donation to Black lives matter
now browsing by tag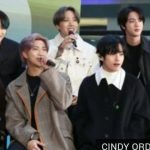 Supporters of K-pop superstars BTS have matched a $1m (£787,000) donation by the group to the Black Lives Matter movement.
US-formed Black Lives Matter campaigns to stop violence and systemic racism towards black people.
It has put forward rallies in the US to protest over the killing of African-American George Floyd by a white police officer on 25 May in Minneapolis.
The death has sparked an international outcry and global protests.
On Saturday Bit Hit Entertainment, which manages BTS, said the band had donated $1m to the Black Lives Matter movement, according to Variety and Yonhap news agency.
"We stand in solidarity with black ARMY. They're an important part of our family. And we stand with black people everywhere. Your voices deserve to be heard."
BTS's social media following is known for its support and activism and had already organised online protests in support of Black Lives Matter.
Source___BBC