Can dexamethasone treat COVID-19?: Doctors Notes
now browsing by tag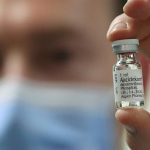 With the coronavirus escalating on the world and economies grinding to a standstill, the concern is to find a vaccine to cure it.
While that could take up to 18 months, existing drugs are being fast-tracked to see if they can be effective in treating people with the disease and helping save lives.
With about 14 percent of COVID-19 patients needing to be hospitalised for respiratory problems, effective treatments are desperately needed.
Researchers are looking at certain drugs in particular, including lopinavir-ritonavir (also called Kaletra), used in the treatment of human immunodeficiency viruses (HIV). Other researchers have meanwhile trialled the steroid dexamethasone, which has yielded some promising results.
A recent announcement by a research team at Oxford University, England allowed for a glimmer of hope in what can only be described as a dark few months.
The drug dexamethasone had been trialled on around 2,000 patients who required hospital treatment as a result of COVID-19. The drug was shown to significantly reduce the number of deaths among those seriously ill with the coronavirus, so much so that the results have been fast-tracked and shared with the wider medical profession so other countries can benefit from these positive findings.
Dexamethasone is a steroid-based medication. It has long been used in the treatment of common conditions such as croup in children, asthma exacerbations, rheumatoid arthritis and for some conditions that cause brain swelling.
Part of the way it works is by suppressing the immune system. What we do know about patients that suffer the worst complications of COVID-19, such as breathing difficulties, is that their own immune system over- responds to the virus, so as well as attacking infected cells it also attacks healthy cells such as those found in the lungs.
Source___Aljazeera