Death Of Black Teen In US Juvenile Facility Sparks Anger
now browsing by tag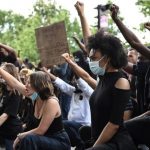 A circulating video showing a black teen losing consciousness while being choked by staff members of US juvenile facility sparked anger on Wednesday, as anti-racism protests continue to escalate across the United States.
Cornelius Fredericks, 16, died May 1, two days after being pressed to the ground by staff at Lakeside Academy — a residential treatment for young adults in Kalamazoo, Michigan — for just throwing a sandwich at another boy in the cafeteria.
In the video, captured by surveillance cameras, Fredericks throws the sandwich and then is thrown to the ground by several men, who use their weight to subdue him.
The "horrific video" of Fredericks's death reveals a "culture of fear and abuse" at Lakeside Academy, where "suffocation is a regular practice… as a form of discipline," the lawyer for Fredericks's family, Geoffrey Fieger, said Tuesday while making the video public.
Fredericks "was executed on April 29 for the crime of throwing a sandwich," Fieger said. The seven staff members who pinned him down "deprived him of oxygen and his brain suffered irreversible damage."
Two of instructors and one nurse were taken into custody and charged with involuntary manslaughter and child abuse.
Source___Channels TV