DR CONGO NEWS
now browsing by tag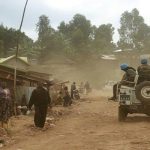 An armed group has murdered no less than 20 civilians in a raid on a village in northeast Democratic Republic of the Congo (DRC), the latest occurrent in a sweep of ethnic violence that has forced 200,000 people from their homes in two months.
*Fighters from the Cooperative for the Development of the Congo (CODECO) militia, which is made up of fighters from the Lendu ethnic group, attacked Hema village in Ituri province at about 1am on Sunday, the army and local authorities said._
"They cut with the machetes several of my compatriots, 20 have already died and more than 14 [are] seriously injured," said Solo Bukutupa, a local administrator. "It's unacceptable to see people die like that."
The murderers run off after United Nations peacekeepers came at the village and the militia later opened fire on a nearby UN base, a UN source said.
Women and children were among the ones killed. Another local official said 22 people were killed.
"The victims are of all ages, children, youths, women and old men, killed by machete, by knife or by firearm," Pilo Mulindro, a tribal chief, told AFP news agency.
Confronting by a Marshall of armed groups in the region has entangled the DRC's feedback to the coronavirus pandemic and an Ebola epidemic that has taking the lives of more than 2,200 people since 2018.
Source___Aljzeera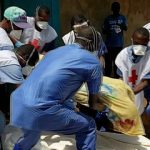 Allied Democratic Forces blamed for carrying out an ambush in northeast region which has seen increased attacks.
An attack on Mangina in the Democratic Republic of the Congo's northeast has killed at least 12 people.
Rebel group Allied Democratic Fighters is suspected of carrying out the raids using machetes and guns.
Hundreds of thousands have fled their homes in the Beni region during the last two months, according to UNHCR, the United Nations refugee agency.