Drug Trafficking news
now browsing by tag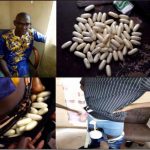 One Sequel Baldeh and Seco Balde were arrested by The Drug Law Enforcement Agency The Gambia, at the Giboro Border Post with Suspected cocaine sources say.
The two weere arrestted on different dates of this month at the border and they are all Bissau nationalist, the DLEAG spokesperson confirms.
He further states that Sequel Balde 29, was arrested on the 31st of August, 2019 and Seco Balde was arrested on the 14 of September, 2019. 100 pellets of cocaine and 75 pellets of cocaine were found on each one respectively.
Both suspects, he said, are under their custody as investigation into the matter continues. "DLEAG will continue on our efforts in making the country free from drugs and its related issues."
Commenting on the concealment method and the way the cocaine was discovered with the first suspect, PRO Saidybah added: "Some quantities were placed in socks, and hidden in his boxer around his private part and some other quantities in the socks he wore. Our operatives are well trained and are always on alert."
On The second accused, he said, the suspected cocaine was hidden inside his boxer and placed around the many jujus he tied around his waist. "Both suspects have European residential documents. They were planning on traveling to Spain through Banjul International Airport. From their tickets they were booked with Binter Canary for Las Palmas from Banjul International Airport," he said.
The DLEAG PRO added that Sequel Balde is a Bissau Guinean residing in France and also holding a Portuguese passport, while Seco Balde is a Bissau Guinean residing in Spain and also holds Spanish residential permit, adding that both suspects were on board a commercial vehicle.
It could be recalled that, Bakary Gassama, the director general of the Drug Law Enforcement Agency The Gambia (DLEAG) once hinted that The Gambia could be a target of Drug Trafficking Organisations who are taking advantage of her strategic location to both South America and Europe as a drug trafficking route.
He said there are indications that the country can be used as a transit point for drugs coming from South America and some parts of Africa to the targeted markets in Europe and U.S.A. "Therefore, it is imperative to prepare well in terms of both human capacity and equipment to respond adequately to the illegal and clandestine activities of these organisations."
It could be also recalled that DLEAG, The Office Central de Re'pression du Trafic Illicite de Stepfiants (OCRITS) of Senegal and The Judiciary Police of Guinea Bissau two months back signed a 'historic' Memorandum of Understanding (MOU) between the three countries. The MOU is aimed at combating drug trafficking, organised crimes and its related issues.
The MOU will enable the three countries to exchange information and intelligence, join training and border patrols in the fight against drug trafficking and organised crime. The MOU is also capable of tactically re-positioning their front-line officers in making the sub-region a hostile environment for criminals.