Ex-Presidents of Panama Charged With Money Laundering
now browsing by tag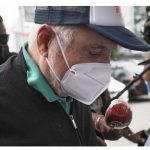 Panama's former two presidents, Ricardo Martinelli and Juan Carlos Varela, were charged yesterday with money laundering, as two separate scandals destroyed the political legacy of the former allies turned enemies.
Martinelli was charged with money laundering over the so-called "New Business" case in which a publishing group was said to buy with government funds during his 2009-14 term.
Martinelli, 68, was in a ouyrage mood as he left the public prosecutor's office in Panama City.
"I'm going to be frank with you, this pisses me off, this political persecution that has no end… they want to involve me (in the case) in order to do away with me," he said, after refusing to testify.
Varela for now "was charged with money laundering in the Odebrecht case," the public prosecutor's office told AFP.
The appearance of the two former presidents "could mean, if there is any optimism, that… no one is above the law," Carlos Barsallo, head of the Panamanian office of Transparency International, told AFP.
Source___Channels TV