Floods kills at least 37 people in Japan
now browsing by tag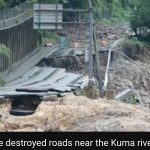 Japan is facing more heavy rain after a weekend of flooding killed at least 37 people.
Not less than 40,000 rescue workers in the south-west were still looking for possible survivors on Monday, after record rains caused landslides and rivers to burst their banks on Saturday.
Thirteen people remain wanting, with 800 rescued so far, Japan's chief cabinet secretary told reporters.
Another 30cm (12 inches) of rain is expected in the next two days and death toll might also rise.
Nonetheless, evacuation centres are running at lower capacity because of the risk of coronavirus, with fire department official Toshihiko Nakamura telling the Kyodo News agency that they had sent some evacuees to another centre due to social distancing rules.
Many of the victims have chosen to shelter in their cars for fear of infection. According to Kyodo News, they have been given pamphlets telling them how to avoid deep vein thrombosis from staying in one position.
Source___BBC