Karpowership company donates 5 ventilators worth D6m
now browsing by tag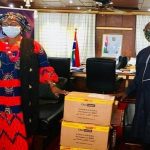 Karpowership energy company donates five ventilators value about D6 million to the Government of The Gambia.
Presenting the medical equipment at State House, Vice President Isatou Touray, the chairperson of the Covid-19 Ministerial Committee, thanks Karpowership for its "timely assistance"and said the ventilators will greatly help the health ministry's comeback in fighting the flu pandemic.
A highly-placed source at the ministry told standard that there are about 20 ventilators in the country. Nonetheless, the source could not make it clear whether that number includes the five donated by Karpowership which had arrived in the country lately.
Vice President Touray noted that Covid-19 is a pandemic requiring a lot of mechanism and as such, government could not do it alone. "Karpowership takes its corporate social responsibility seriously and this is what is expected and we thank you for helping the government and the people of The Gambia for your great intervention," she concluded.
Mr Ceesay a former permanent secretary at the Ministry of Health, said a ventilator takes over the body's breathing process when disease caused the lungs to fail.
'He said according to the WHO, 80 percent of people with the Covid-19 disease are cured without needing hospital treatment but one person in six becomes seriously ill.
In these severe cases, he noted, the virus causes damage to the lungs, causing the body's oxygen levels to drop and make it harder to breathe.'
Source___Standard News