LGBT in The Gambia
now browsing by tag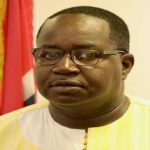 The Gambia government make known for the first time their position on the raging gay rights discussion in the country.
In a statement signed by spokesman Ebrima Sankareh yesterday, the Government stated that.
"In the wake of the simmering controversy surrounding gays, lesbians, bisexuals and transgender (LGBT) in The Gambia, The Government of President Adama Barrow wants to make it absolutely clear that neither President Barrow himself nor any member of his government, its envoy, agent or representative has ever signed, consented to, participated in or even pretended to support any deal, package, programme or agenda for the promotion of LGBT rights as is being falsely reported on news and various social media platforms. In fact, at no time had The Gambia Government ever been faced with the option to accept donor funds as bargaining chips or a conditionality for the relaxation of LGBT rights.
"Therefore, it is not only baffling but worrisome to hear some opposition and religious leaders engage in crude speculations or indulge in insinuations and wild innuendoes that cannot be substantiated. Since assuming office in 2017, President Adama Barrow has been working tirelessly to strengthening our democracy, upholding the rule of law and promoting the values of, press freedom, constitutional due process and the independence of the judiciary as evident in the most recent high-profile cases.
"Regrettably, some elements within society have seized this democratic space to sometimes indulge in malicious fabrications against the Government and then peddle these falsehoods on social media to potentially create confusion and distrust among citizens. We therefore urge the Gambian people to remain steadfast against the spread of misleading information and always with respect to Government actions, to verify their accuracy with the relevant authorities."
Source___Standard Newspaper