Man Taking into Custody For Allegedly Raping Three-Month-Old Baby In Nasarawa state Nigeria
now browsing by tag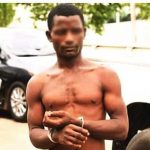 The Nigeria Security and Civil Defence Corps (NSCDC) has taken into custody a 27-year-old man for allegedly Raping a three-month-old baby and three other minors in Nasarawa State.
NSCDC Deputy Commandant of the State Command, Bisi Olugboyega who paraded the suspect on Wednesday said the suspect, Adam Yaro, perpetrated the act on May 27.
According to Olugboyega, the victim who is his fourth was being defiled in Adogi community of Lafia East Development Area where he and other victims all reside.
Speaking to Channels Television, the suspect said he cannot explain how it happened, pleading for justice to be tempered with mercy.
"Me too I don't know what made me begin such an act. I won't do it again. It was the work of the devil that made me commit the act," he said.
Meanwhile, the victim's mother, Maimuna Aliyu wants the law to prevail.
Source___Channels TV