Member of parliament for Brikama South receives prestigious Global Humanitarian Award
now browsing by tag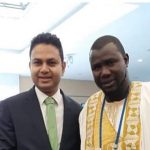 The Member of Parliament for Brikama South, Hon. Lamin J. Sanneh on Sunday receivea prestigious Global Humanitarian Award by the World Humanitarian Drive (WHD) for his "selfless contribution to humanity".
WHD is a worldwide organization that promotes humanity towards peace, understanding and harmony, andinspires people to promote peace through all available positive mediums such as education, sports, arts, trade and media around the world.
At a virtual ceremony Sunday, WHD recognised one hundred people across the world, including Honourable Sanneh dubbed Stars of Covid, for their contributions in the fight against Covid-19.
"STARS OF COVID", is considered as part of an initiative by WHD founder Dr. Abdul Basit Syed who said the award was to show appreciation and honour courageous selfless contributors to the betterment of humanity, especially during this crisis of Covid-19.
"We decided to appreciate those unsung heroes of humanity and bring them to the limelight. We often forget to say thank you or acknowledge those who have always been contributing to the betterment of humanity especially during this crisis of COVID-19", he said.
*Since the outbreak of the Covid-19, Honourable Sanneh, a social worker for many years, has been leading the fight against the pandemic in his constituency, using community-based initiatives to sensitize and empower his people against it. This year, WHD received more than 1,600 nominations from all seven continents and 52 countries. The shortlist of the award includes 550 projects with 100 projects from 35 countries.*
Reacting to the award, Honourable Sanneh expressed great pleasure and honour to be among the winners of the Global Humanitarian Awards from World Humanitarian Drive.
"On my own behalf, my entire family, my constituency Brikama South and the Gambia at large, I want to sincerely thank World Humanitarian Drive for the gesture and the initiative, I therefore challenge sister institutions around the world to emulate (WHD). The gesture is encouraging me more and it is also increasing my commitment yawning for more Awards in future".