Mexico News
now browsing by tag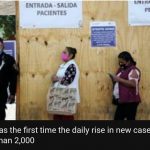 *Mexico has reached "the peak moment" of its coronavirus outbreak, officials said, as the country recorded its largest one-day rise in cases so far.*
More than 2,409 new cases of the virus were recorded on Thursday – the first time their latest figure has surpassed 2,000.
The toll of confirmed cases in the country is now more than 40,000.
The grim milestone comes amidst strategies to ease lockdown measures and restart their economy, mainly factories near the border with the US.
Assistant Health Secretary Hugo López-Gatell – an epidemiologist and Mexico's coronavirus tsar – marked out this as "the most difficult moment of the first wave of the epidemic".
He said that the country "could not relax measures" in place to reduce the escalation of the virus, and in alternative needs to welcome a "new normal" to prevent another wave of infections.
On Monday, some key industries – including mining, construction and automobile assembly – are scheduled to partially reopen.
*Mr López-Gatell stressed that the re-opening of these industries will be largely preparatory, with a broader restart of businesses not scheduled until 1 June.*
Government data shown on Thursday also pictured more than half of hospitals in the capital, Mexico City, were at capacity with coronavirus patients.
Earlier this month, Mexico gained a shipment of more than 200 ventilators bought from a US firm.
Source___BBC News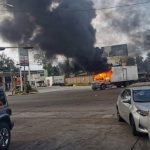 Heavy fighting broke in northern Mexico after the security forces seized one of the sons of jailed drug kingpin Joaquín "El Chapo" Guzmán.
Fighting raged for several hours after Ovidio Guzmán López was found during a routine patrol in the city of Culiacán.
Footage on Mexican TV showed armed men with heavy weapons firing on police, with vehicles, bodies and burning barricades strewn across the street.
Mr Guzmán was later released – to avoid further violence, the authorities said.
Mexico's security minister, Alfonso Durazo, said a patrol of National Guard militarised police came under heavy fire from within the house where Mr Guzmán was being held, forcing them to retreat for their own safety.
Mr Guzmán was arrested but later released, "to avoid more violence in the area and preserve the lives of our personnel and recover calm in the city", Mr Durazo said.
Mexico's President Andrés Manuel López Obrador said he would hold a meeting of his security cabinet to discuss the incident.
Mr Obrador was elected on a platform of cracking down on Mexico's drug cartels, and has tasked a new security force, the National Guard, with fighting them.
Under El Chapo's leadership, the Sinaloa cartel was the biggest supplier of drugs to the US, officials say.
With El Chapo now behind bars, the cartel is said to be partially controlled by Ovidio Guzmán, who is accused of drug trafficking in the US.