President Barrow not to change the draft constitution
now browsing by tag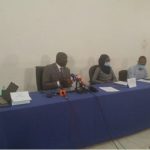 The Civil Society Organisations (CSOs) in The Gambia threw their recommendations behind the country's new draft constitution, saying it expresses the will of the Gambian people.
In a joint declaration, they called on President Adama Barrow to bring forward the draft constitution to lawmakers "unchanged"
"It is incumbent on the current government to take all urgent steps necessary to ensure that the draft Constitution is submitted unaltered to the National Assembly to respect the aspirations of the people," said the activists in a statement read by John Charles Njie, the chairman of Tango, on behalf of civil society organisations in the country.
'The Draft Constitution, which was submitted to President Adama Barrow on March 30 and made public a day later, is due to be published in the Gazette on May 30 and put before lawmakers in August before it is subject to a referendum.'
Its popular vote requires the support of 75% turnout of 50% of Gambian voters.
"Whilst not all opinions expressed in the consultative process have been incorporated in the final draft, the civil society believes that the CRC has managed to produce a draft constitution based on the views expressed by the majority of Gambians," said Njie, chairman of Tango.
"The CRC also accommodated minority views in the interest of serving all citizens. The final draft constitution has appropriately taken on board very progressive provisions from different African Constitutions and has now obtained both local and international acclaim."
Since the draft constitution was put forward, rumours were widespread that the Gambian leader, Adama Barrow does not support it.
Among the things Barrow is said to be against is that the draft counts his current term as part of the two terms he is permitted to serve as president.
His cabinet is also against the "too much powers" the draft has given the National Assembly and that they are also asking for it not to be mandatory for the president to be in parliament.
Source___The Point