Tennis superstar Novak Djokovic tests positive for coronavirus
now browsing by tag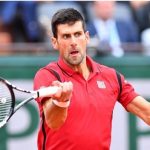 World's number one in men's tennis player, Novak Djokovic, has tested positive for Covid-19 after taking part in a tennis exhibition series he organised in Serbia and Croatia.
The top-ranked Serb is one of the fourth players to test positive for the pandemic after first playing in Serbia's capital, Belgrade, and then again last weekend in Zadar, Croatia. His wife also tested positive.
"The moment we arrived in Belgrade we went to be tested. My result is positive, just as Jelena's, while the results of our children are negative," Djokovic said in a statement on Tuesday.
Djokovic has been backlash for organising the Adria Tour and bringing in players from other countries amid the coronavirus pandemic.
Some of the Croatian newspaper headlines read on Tuesday: "We forgot Italy and jeopardised thousands of people because someone wanted to hit the ball", "The entire Croatian tennis association must resign, now", and "This may shake Djokovic's credibility".
Source___Aljazeera