Tourism Ministry response to D38.5M scandal
now browsing by tag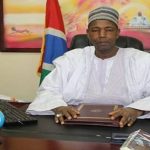 The tourism ministry heard some rumours on social media that it has mismanaged over 38 million dalasis.
In a press statement concerning the rumours, the tourism ministry said that D38.5M were actually meant for construction of eco-lodges.
The statement state: "The Ministry of Tourism and Culture wishes to inform the public that rumours circulating on social media of a 38.5-million-dalasi scandal is totally false and unfounded. These amounts are part of funds set aside for the construction of five eco-lodges strategically located on the banks of The River Gambia, planned before the advent of Covid-19. The eco-lodges will be located in the North Bank Region; Kunkiling Forest Park, Central River Region, Sotuma Samba in the Upper River Region, Nyana Bantang and Arafat in the Central River Region. The process has already commenced, and the projects once completed will be visible to the public.
"The contract was processed and awarded by the Gambia Tourism Board following a vigorous bidding process. The Ministry therefore, disassociates itself with any form of misinformation geared towards personal defamation of character of credible and reputable personnel. The Ministry of Tourism and Culture is also not aware of the Save Tourism Stakeholders Association who seem to be keenly and maliciously pedalling false information online about senior staff and the disappearance of funds.
"The eco-lodges will have four-star comforts and will set the standards in up-country tourism facilities. Upon completion, the eco-lodges are expected to generate hundreds of direct and indirect employments to the youth and will further harness the tourism potential of The River Gambia, such as the use of river craft to access the eco-lodges in order to revive River transport.
"The public is also kindly invited to note that the GT Board Act grants administrative and financial autonomy to its independent Board of Directors and as a result, it is in no way controlled or managed by any individual."
Source___Standard Newspaper