UK
now browsing by tag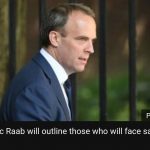 The UK will soon impose correction solo for the first time on hundreds of individuals alleged of human rights abuses around the world.
It will target individuals or organisations accused of human rights violations around the world, as well as those who profit financially from those abuses.
The foreign secretary will name several dozen people who will have their assets in the UK frozen and who will also be banned from entering the country.
Dominic Raab will name the first violators to have their assets frozen as part of a new post-Brexit regime.
These are also known to include Russian officials thought to be implicated in the death of Sergei Magnitsky in 2009.
The whistleblower's maltreatment while in custody has been condemned by the European Court of Human Rights.
In the past, the UK has almost always imposed sanctions collectively as a member of the United Nations or European Union but, after its departure from the EU in January, a new framework is being put in place in UK law.
The foreign secretary will later table the final legislation needed to make this happen in the House of Commons.
Source___BBC