Africa News
now browsing by tag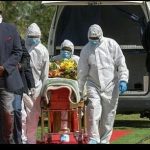 Africa surpassed the 50,000 recorded cases mark today according to results by the John Hopkins University tracker. As of 19:00 GMT number of cases stood at 50,000.
The number shows a vault over 30,000 cases in exactly 18 days. The 20,000 mark was set foot on April 18.
The barb in infections in recent weeks had threatened the WHO Africa office and the African Union's Centers for Disease Control, Africa CDC.
Meanwhile, the number of death has passed 2,000 mark as of May 7, 2020. Recoveries also passed the 17,000 mark even as more government double up testing efforts.
Source___Africa News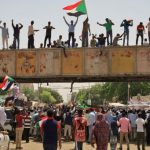 People in Sudan's capital, Khartoum, have been protesting against fuel and bread shortages. Anger about this same issue back in December 2018 is what sparked mass anti-government protests that led to the downfall of President Omar al-Bashir.
One woman told the BBC's OS programme how she waited for six hours at a petrol station on Wednesday, eventually getting fuel close to midnight after her children had already fallen asleep at home.
Four hours into her wait, Tagreed Abdin decided to keep a log of what happened.
At 21:20 local time (19:20 GMT):
Quote Message: I've been here so long [that] my husband brought supplies – snacks, diet coke and stuff. So here I am, waiting. I called the kids because it's bedtime. When I told [the petrol station staff] we'd been here for four hours they told me some people have been here since 09:00."
Female motorists are in one queue, and men in the other. Motorists are let through at a rate of five men to one woman. Later, motorists argue and things start to get violent:
Quote Message: In the end the ladies convinced the local neighbourhood committees to let the cars go through five guys to two women. I saw that the line hadn't moved for an hour. I'm thinking of bailing."
At 23:16 local time she is close to being served alongside another female motorist. During their long wait the pair have become friendly and exchanged phone numbers. Ms Abdin says:
Quote Message: She still has to get home and see what her kids are going to have for breakfast and to get their uniforms ready. The women of Sudan continue to inspire me… I've lost track [of time]. But now I can see the pumps for the first time."
At 23:25 local time Ms Abdin finally gets her fuel:
Quote Message: Victory at last. I just filled up my tank after six hours. Hallelujah. Thank you!"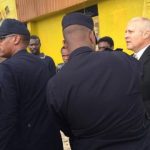 An American preacher who was arrested on Monday in Rwanda for holding an "illegal meeting with journalists" has been deported, New Times of Rwanda newspaper reports.
Rwandan Directorate General for Immigration and Emigration Regis Gatarayiha is quoted by paper as saying evangelist Gregg Schoof was removed from the country for being a "prohibited immigrant" adding that he was "involved in activities that cause public disorder".
The preacher had been due to criticise the Rwandan government for shutting down his radio station and his church.
The Amazing Grace radio station was banned last year after it broadcast a sermon that described women as "evil".
Mr Schoof' disputes this saying in a statement on Monday that the preacher on his station had used woman as a biblical metaphor for a church, so he said, the sermon was about "a bad church" not women.
His church was closed in February, among hundreds of others, for failing to comply with building regulations "and for noise pollution".
In May, the preacher lost an appeal against the government's media regulator to get his station to be reopened leading him to question the extent of freedom of expression in Rwanda.
In his Monday statement he accused the government of trying to send people to hell by closing churches, teaching evolution in school and promoting abortion.
Mr Schoof and his family have been living in Rwanda since 2003.
"I did not come here to fight the government. I came to preach the gospel. I care nothing about politics. Nor do I care who is president or what party is in power," his statement said.
"But this government has taken a stand against God with its heathen practices. I hope Christians will do their lawful part in all this and simply do what is right and help fix these problems."