Another 1000 death in Brazil within 24 hours
now browsing by tag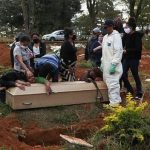 Brazil has confirmed more than 1,000 new deaths from the coronavirus in the past 24 hours.
The 1,086 casualties, revealed on Wednesday, brought the toll of deaths to 25,598. With 20,599 new cases, the number of infected people has reached a stand of 411,821.
Brazil is the second highly affected country after the United States, which has 1,698,581 cases and 100,276 deaths, according to US-based Johns Hopkins University.
In spite of being one of the hardest-hit states, Sao Paulo, the biggest hotspot for cases in Brazil, will start to gradually reopened its economy on Monday.
Sao Paulo Governor Joao Doria made known on Wednesday that the state will enter a new phase of quarantine as of June 1.
"We will maintain the quarantine until June 15, but with the resumption of some economic activities," Doria said at a news conference.
Conflicting to what President Jair Bolsonaro has said, Sao Paulo authorities have emphasized that without the quarantines put in place, the toll of victims would be much higher.
Source___Aljazeera