At least one killed 20 others wounded as police fire gunshots and tear gas to disperse anti-government protesters in Mali.
now browsing by tag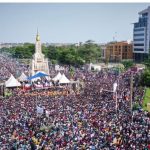 Mali's President Ibrahim Boubacar Keita has said he has launched an investigation into violence committed during a mass anti-government protest on Friday, which saw at least one person killed and 20 others wounded.
Thousands rallied in the capital city Bamako to demand Keita's resignation over long-running security issues, economic woes and perceived government corruption in the fragile West African state.
The rally was organised by an opposition coalition and is the third such demonstration in two months – significantly escalating pressure on the embattled leader.
Led by influential scholar Mahmoud Dicko, the so-called June 5 movement is channelling deep-seated frustrations in the country.
"We have recorded one death," said Yamadou Diallo, a doctor in Bamako's Gabriel Toure Hospital, adding that 20 people had been wounded.
An official from the prime minister's office also confirmed the death. The circumstances under which people were wounded and one person was killed were not immediately clear.
Source___Aljazeera