Brazil becomes second country to Surpass 50000 Covid-19 deaths
now browsing by tag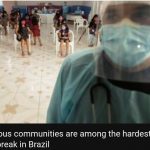 Brazil has become the second country, after the United States, to register more than 50,000 deaths from Covid-19.
It comes in the mixed growing political tension and just days after the country confirmed more than one million coronavirus infections.
Graphs of Brazil's deaths and infections show an escalation of continuity
The World Health Organization (WHO) has also confirmed the biggest one-day increase in cases worldwide, with most of the new infections in the Americas.
The decision of Brazil's far-right President Jair Bolsonaro to oppose lockdowns and focus on the economy has been hugely divisive.
Two health ministers – both doctors – have left their posts as deaths and infections have surged. The first was sacked by Mr Bolsonaro, the second resigned after disagreeing with the president.
Yesterday, Brazil's health ministry announced that 641 more deaths had been registered in the past 24 hours, taking the total to 50,617. Over the same period it also registered more than 17,000 new infections.
Only the US has more worse overall, with not less than 2.2 million cases and nearly 120,000 deaths from the pandemic.
Source___BBC