Only 1000 people will be able to take part in the pilgrimage and will need to be quarantined after the event.
now browsing by tag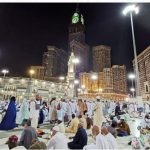 This year's Hajj, which has been set back to include only about 1,000 Muslim pilgrims because of the coronavirus pandemic, will begin on July 29, Saudi authorities said on Monday.
Some 2.5 million people usually participate in the ritual of several days, which is centred on the holy city of Mecca.
"The stand of pilgrims on Mount Arafat, the peak of the Hajj ritual, falls on Thursday," the official Saudi Press Agency cited the Supreme Court as saying, indicating that Wednesday would be the first day of the annual event.
The timing of the Hajj is determined by the position of the moon, in accordance with the Islamic lunar calendar.
Last month, Saudi Arabia announced it would hold a "very limited" Hajj, a decision fraught with political and economic peril as it battles a surge in coronavirus cases that now exceed more than 250,000.
Source___Aljazeera