nIGERIA nEWS
now browsing by tag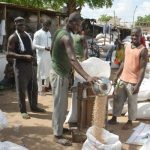 The government says it wants to stop smugglers and criminals who pose a threat to the country and its economy and will keep the borders closed for now.
Business owners in Nigeria are complaining they have lost hundreds of millions of dollars since the government closed a border crossing with neighboring Benin.
knowing that Nigeria has a big market for rice, it has cause loses to restaurants, hotels and so on.
however serious inflation of goods is happening in Nigeria. The price of rice has rise to its highest in some areas in Nigeria making it had for consumers to buy rice. Other food stuffs like beans, yam, oil etc. people are not given enough alternative before the borders were close and this has caused a lot of disadvantage to consumers and even those involve in rice selling.
Authorities say they are trying to stop illegal goods being smuggled in.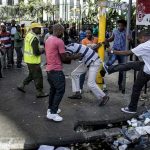 Three Nigerians injured in fresh xenophobic attacks in South Africa
Three Nigerians have been injured in fresh xenophobic attacks in Mpumalanga Province, South Africa, The PUNCH has reported.
This comes less than a week after a Nigerian, Ikenna Otugo, was reportedly stabbed to death by unknown assailants in Empageni, South Africa.
The President of the Nigerian Union South Africa, Adetola Olubajo, confirmed the attacks in an interview with our correspondent, saying the incident began in the early hours of Tuesday.
Olubajo said, "The Department of Home Affairs, which is like our own Ministry of Interior that deals with immigration and citizens' issues, is in the (South African) parliament briefing the parliament on migration.
"While that is going on, there is an attack on foreign nationals in Witbank area of Mpumalanga Province and there are some locations mainly in Extension 10, even the police commander there was giving a warning to foreign nationals to be careful.
"Though no death has been recorded so far, there has been loss of properties and people have been injured. At the last count, there are four of them have been injured who are Nigerians."
He stated that, even though the taxi drivers and people in the community claimed that they were attacking drug dealers, "we are not sure if those people that were attacked are actually drug dealers."
The NUSA president also confirmed that the shop of a prominent Nigerian in the area was burnt down. "So they had to seek refuge at a police station," he said.
He added, "We are very saddened that, even after all the efforts of the two governments to forge ahead with good programmes and suggestions here and there, this kind of thing happened.
"It is so unfortunately because they have to go back to the drawing board or speed up the implementation of some of the mechanisms they agreed on.
"I am saddened because a Nigerian was also stabbed to death a few days ago in Empangeni and the culprits are still at large. And we believe that if there is no deterrent for some of the perpetrators of these crimes against Africans, Nigerians in particular, these things will continue to happen."
Olubajo called on the Federal Government and the South African government to speed up the implementation of its agreements and put in place a tactical response team that will ensure, not only that reports are made, but culprits are arrested.