Corona Virus Top Nine Million As WHO Says Pandemic 'Escalating'
now browsing by tag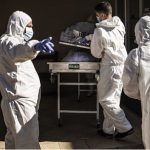 Global coronavirus cases topped nine million as the World Health Organization warned the pandemic was escalating and Saudi Arabia make known it would scale back the hajj Islamic pilgrimage next month.
Europe has already eased its travel restrictions in recent weeks, and France on Monday took its biggest step back to normality by allowing millions of children to return to school.
But many parts of the world, including Latin America and South Asia, are only beginning to feel the full force of the pandemic, while other regions are being hit with second waves.
"This is not what a gradual end to the lockdown looks like," said Dr Gilbert Deray.
"I understand that the Festival of Music is something of a liberation, but did we really have to have it this year?"
'Swimming pools and cinemas also reopened while children up to the age of 15 returned to school.'
In England authorities said cinemas, museums and galleries would reopen on July 4 in the next phase of easing lockdowns as infection rates there also slow.
Source___BBC