Ethiopia news
now browsing by tag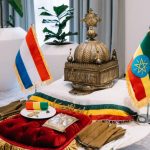 An 18th Century Ethiopian crown has been returned home after being hidden in a Dutch flat for more than 20 years.
Ethiopian Sirak Asfaw, who fled to the Netherlands in the late 1970s, found the crown in 1998 in the suitcase of a visitor and realised it was stolen.
The management consultant protected it until he alerted a historian and Dutch police of his discovery last year.
On Thursday, Ethiopia's Prime Minister Abiy Ahmed received the crown, thought to be one of just 20 in existence.
The crown has depictions of Jesus Christ, God and the Holy Spirit, as well as Jesus' disciples, and was probably given to a church by the powerful warlord Welde Sellase hundreds of years ago.
In a tweet, Mr Abiy said he was grateful to Mr Sirak and the Dutch government for the return of the "precious crown".
What's the story of the crown?
Mr Sirak left his home country in 1978 to escape the political repression of the Communist government, or Derg, which had come to power in 1974. The regime unleashed a wave of violence known as the Red Terror, which killed hundreds of thousands and forced many to leave.
The former refugee used to host Ethiopians who had left the country in his Rotterdam flat throughout the 1980s and 1990s. "Friends, refugees, whoever," he said. It was one of these visitors staying at his home in 1998 who was carrying the crown in his bag.
"Most people don't really care about this cultural heritage. I'm loyal to Ethiopia," he told the BBC in an interview last year.
Mr Sirak confronted the man and insisted the crown was not leaving unless it could be returned to its home.
After asking for help on internet forums – which yielded no useful answers – he decided the best course of action was to hold onto the crown until he knew it would be safe.
"You end up in such a suffocating situation, not knowing who to tell or what to do, or to hand over," he said. "And of course afraid that the Dutch government might confiscate it."
"I had fire alarms all over my house, eight or something like that. Really scared!"
'I feel pity for the people who had to wear it'
But after the reforming Mr Abiy becoming prime minister in 2018, Mr Sirak felt the time was right to have a piece of Ethiopia's history return to Addis Ababa.
He contacted Arthur Brand, known as the "Indiana Jones of the art world", for help returning it home.
"I explained to him, look, either the crown will disappear or you [will], if you continue like this," Mr Brand told the BBC.
"I said if the people who were involved at the time got knowledge of it, the risk was that they would come back and would take the crown from him."
With the consent of the Dutch police, the art hunter placed the artefact in a secure facility. An expert confirmed it was genuine, and Mr Brand decided the best course of action was to announce it publicly.
"It's an amazing piece. It's very big, I feel pity for the people who had to wear it on their heads because when you wear this for a couple of hours your neck hurts," he said.
Both men waited for the Ethiopian government to get in touch with the Dutch authorities to plan the return of the crown.
"I want this crown to be a symbol of unity and togetherness," Mr Sirak said. "The crown will be celebrated by all of us Ethiopians, even Africans."
FROM BBC NEWS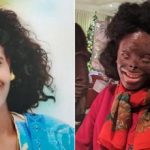 An Ethiopian woman disfigured after her estranged husband attacked her with acid in 2017 says that despite her suffering she has reasons to be thankful.
"There are more good people in the world than there are bad people," Atsede Nguse said on the phone from her new home in the US.
"I have been touched by the kindness and love people showed me after the incident," the 29-year-old mother of one said.
The acid poured over her destroyed her face and burned through her body.
She could not get treatment in an Ethiopian hospital and did not have money to go elsewhere
When they learned what had happened, friends and well-wishers raised money to pay for treatment in Thailand.
But that money ran out before Ms Atsede was properly healed and she had to return home.
Then, for a second time, someone came to her assistance.
'Touched my heart'
Menbere Aklilu, an Ethiopian women's rights activist based in the US, read about what had happened to Ms Atsede on Facebook.
As a survivor of domestic violence herself, she said she wanted to help.
"When I read her story, I felt sorry like everyone else. But when I knew she was a mother, I thought: 'What if my son was in her son's place?'
"This really touched my heart."
Acid Survivors Trust International, a UK-based non-governmental organisation, estimates that between 50 and 75 women are attacked with acid in Ethiopia every year.
This figure fits into a larger pattern of domestic violence.
A 2016 Ethiopian government study said that more than a third of adult women who were or had been in a relationship had been the victims of physical, sexual or emotional violence at the hands of their partner.
The attack on Ms Atsede can be seen in this context.
Neighbours' warning
Her husband, whom she married in 2012, would beat her over minor disagreements.
"Our neighbours were worried, and said he may kill me some day. Despite it all, I continued to live with him for the sake of my child. I didn't want him to grow up without a father, as I did."
FROM BBC STORIES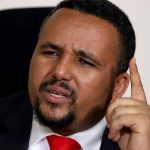 Security forces in Ethiopia's Oromo state on Wednesday clashed with supporters of popular activist, Jawar Mohammed, who earlier claimed an assassination plot against him.
Jawar, who was a popular figure in the anti-government protests that are widely credited to have forced the ruling coalition to reform, claimed there were attempts to remove his security detail on Tuesday night.
''The plan was to remove my security and unleash civilian attackers and claim it was a mob attack. There has been strange mob type conflict in the city in the last few days including one not far from where I live just about an hour before they tried to remove security from my house,'' Jawar said in a message posted on his Facebook page.
The plan was to remove my security and unleash civilian attackers and claim it was a mob attack.
Jawar, who runs the Oromo Media Network (OMN) was one of the activists and political leaders who were security by the government, following his return from exile.
Local news portal Addis Standard said the Federal Police Commission Commander Endeshaw Tasew, confimred that some of this security detail is being withdrawn from private citizens based on low threat and increased stability evaluations.
"His message that the police were taking measures against him are false. Neither the government nor the police took any measure against him," Tasew added, in response to Jawar's accusations against the government.
Abiy's tough media message
The tensions between Jawar and the federal government can be traced to remarks by the prime minister, Abiy Ahmed who on Tuesday warned of forthcoming tough measures against media organisations 'fuelling conflict'.
"If [you] become a threat against Ethiopia's peace and survival, whether or not you speak Amharic or Afaan Oromoo, it should be noted that we will take the necessary measures," Abiy told parliamentarians.
Abiy continued to say ''we do not have another country to flee to. Those of you with [a second] country, if you are willing to help us with our peace, development and democracy then you are welcome".
These remarks were interpreted by many, including Jawar, as an attack on himself and his organisation. Jawar later explained to his 1.7 million followers on Facebook that he only acquired a foreign passport 'beacuse the government would not renew the one he had'.
The popular activist has repeatedly dismissed allegations that he intends to run for political office, but is increasingly seen to be working towards a showdown with Abiy, the country's first prime minister from the Oromo ethnic group.
Abiy is currently attending attending the Russia-Africa Summit in Sochi. Russia's president Vladmir Putin on Wednesday congratulated Abiy upon the Nobel Peace Prize he won this month.