US
now browsing by tag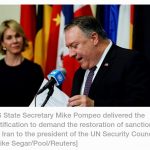 By Amie T. Camara
As confidently known by Afrinity Production, we can clearly disclose to you the United States moved on Thursday to restore U.N. sanctions on Iran, this includes an arms embargo, arguing Tehran was in violation of a nuclear deal it struck with world powers in 2015 even though it is unveil to Afrinity Production that Washington itself abandoned that agreement two years ago.
To clear this to you, you have to know that all the remaining parties to the nuclear deal – Germany, France, Britain, Russia and China -are immediately notified by the Security Council, in letters seen by Reuters, that they did not recognise the U.S. move.
The United States acted after the Security Council resoundingly rejected its bid last week to extend an arms embargo on Iran beyond its expiration in October.
"It is an enormous mistake not to extend this arms embargo. It's nuts!" Pompeo told reporters at the United Nations as he harshly criticized what he described as the "one-sided, foolish" nuclear deal negotiated by former U.S. President Barack Obama.
President Donald Trump has called it the "worst deal ever." The pact aimed to prevent Tehran from developing nuclear weapons in return for sanctions relief and is enshrined in a 2015 Security Council resolution. Washington argues that it can trigger the snapback process because the resolution still names it as a participant to the nuclear deal.
Germany, France and Britain on Thursday described the U.S. attempt to trigger a sanctions snapback as "incompatible" with their efforts to support the already fragile nuclear deal, while Russia and China said it was "illegitimate."
Source___Aljazeera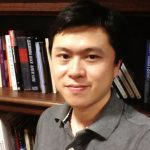 Bing Liu, a 37-year-old Chinese assistant professor at the University of Pittsburgh School of Medicine, was discovered dead in his house on Saturday.
Close friends said he was near to making "significant findings" on his studies of Covid-19, tracing online opinion it was an assassination.
But police say it was a murder-suicide.
The Chinese Professor was discovered with multiple gunshot wounds to the head, neck, torso and extremities at his home in the Pittsburgh suburbs, as said by the local police department.The gunman was later identified as 46-year-old software engineer Hao Gu. Authorities say he took his own life after returning to his car.
"Liu and Gu knew each other," homicide detectives said.
The findings has determined it was a murder-suicide resulting from "a lengthy dispute regarding an intimate partner".
They said there was "zero prove" the case was anything close to Liu's research work and the current public health crisis.
In a statement, Liu's colleagues eulogies him as an outstanding researcher who "was on the verge of making very significant findings" towards improving the cellular mechanisms of Covid-19 escalation.
According Liu' online CV, he had joined with biologists and clinicians to study human immunity.
What are the conspiracy theorists saying?
"Oh my god," a user on the Chinese social media platform Weibo wrote. "This seems like coming straight out of Mission Impossible. Perhaps he found out that the virus originated from an American lab."
Many similar comments suggested Liu was killed because he was seemingly about to straighten out the mystery of coronavirus' origin.
Chinese officials and state media had earlier on promoted an unfounded claim that the virus originated in the US and was brought to Wuhan by Americans.
Source___BBC News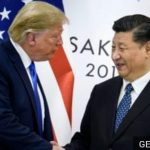 Rigidity connecting the US and China are long-establishing but the pandemic and a emerging presidential election have boost the rivalry, and this week the conflict of words strike a new height. What's the US plan of action?
This week President Donald J Trump revolved a corner with his 2020 re-election campaign.
"China will do anything they can to have me lose this race," he told the Reuters news agency.
His accuminating rhetoric against Beijing stamped a new phase in an effort to replan an election that's been rebuild by the coronavirus pandemic.
The Trump campaign had vowed to make America's flourishing economy its vocal point, but that has besotted. And polls show reduction of support for the president in key battlefront states amidst criticism of his corona crisis performance.
Enter China, the origin of the pandemic and indict for acting too slowly to stop its global escalation.
The Republican strategy actually attacks the former vice president, Joe Biden, the presumed Democratic nominee.
"If you look at the most recent Pew poll and Gallup poll, Americans' distrust of China, whether you're Republican or Democrat, is at an all-time high," roughly two-thirds of the country, says the AFA's Kelly Sadler. "This is a universal issue that Republicans and Democrats can both agree on."
There's surely been a substantial hike in negative views of China since Mr Trump took office and push up the trade war.
When it comes to Beijing's accountability for the corona crisis, nonetheless, he has regularly flickered, sometimes showering praise on President Xi Jinping, at times lashing the "Chinese Virus." But he's now started to adopt the hardline campaign-speak, vowing to make China pay for the damage.
Source___BBC