Christian Council in the Gambia says draft constitution does not entirely safeguards Christians
now browsing by tag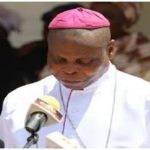 The Gambia Christian Council has said the 2020 draft Constitution handed over to the president by CRC still lacks some short of protection for christian religious rights.
In statement shared with The Standard, the GCC argued: "Apart from the text of the draft itself which allows for more than a single interoperation on this issue the primary concern of the Christian Community is driven by the reality of its experiences during the Jammeh era.
"The Christian community wishes to ensure that its rights as a minority religion are protected in the said Constitution. For more than 20 years, we have watched helplessly as the government openly encouraged and permitted the construction of mosques in government institutions, at the expense of other religions, including Christianity and in a country which the government was not permitted to prefer any one religion over another.
Arabic inscriptions were placed over government offices and the dress code of female students in schools was altered to require schoolgirls and women functionaries to wear the Hijab in public as their peers are obliged to do in Arab Islamic countries.
Instead of marking a return to order and the rule of law, the adopted text of the Constitution has plunged The Gambia into even greater chaos as regards religious tolerance. It is having the effect of polarising rather unifying us as a nation. The new Constitution has for the first time since The Gambia became an independent country created a parallel legal system to the common law system, this is the Shari'ah legal system.
"The Constitution makes it mandatory for the majority of the Gambian people to be subject to Shari'ah law in matters of marriage, burial, inheritance, adoption, endowments, all the key areas of human life."
Credit___Standard Newspaper